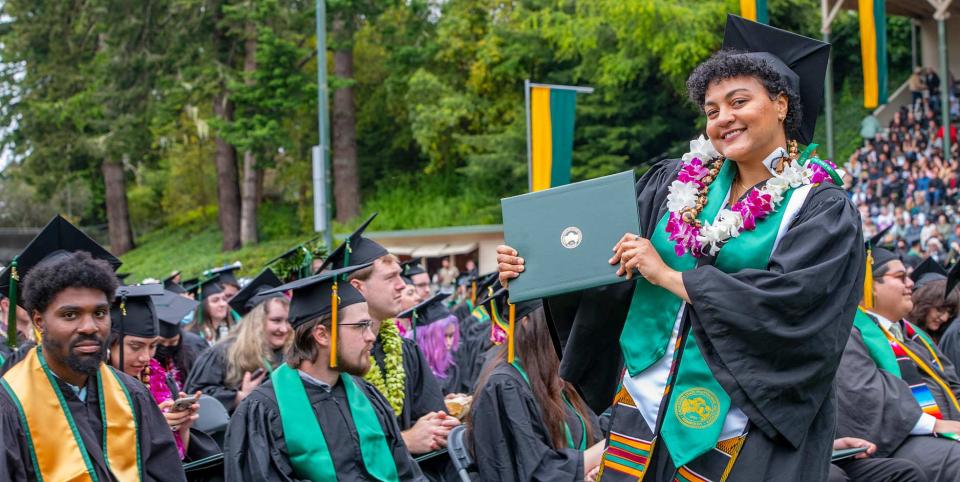 Saturday, May 13 | Redwood Bowl
On-Campus Ceremony Schedule
9:00 a.m. - College of Arts, Humanities & Social Sciences
Show College Majors
Bachelor's Degrees
Anthropology
Art
Communication
Criminology & Justice Studies
Critical Race, Gender & Sexuality Studies
Dance Studies (Interdisciplinary Studies)
English
Environmental Studies
Film
Fine Art
French & Francophone Studies
Geography
History
International Studies
Journalism
Music
Native American Studies
Philosophy
Political Science
Religious Studies
Sociology
Spanish
Theatre Arts
Theatre, Film & Dance
Master's Degrees
Applied Anthropology
English
Social Science, Environment & Community
Sociology
12:00 p.m. - College of Natural Resources & Sciences
Show College Majors
Bachelor's Degrees
Biology
Botany
Chemistry
Computer Science
Environmental Resources Engineering
Environmental Science & Management
Fisheries Biology
Forestry
Geology
Mathematics
Oceanography
Physical Science
Physics
Rangeland Resource Science
Wildlife
Zoology
Master's Degrees
Biology
Environmental Systems
Natural Resources
3:00 p.m. - College of Professional Studies
Show College Majors
Bachelor's Degrees
Business Administration
Child Development (Liberal Studies)
Child Development & Family Relationships
Economics
Elementary Education (Liberal Studies)
Kinesiology
Leadership Studies (Liberal Studies)
Nursing
Psychology
Recreation Administration
Social Work
Master's Degrees
Business Administration
Education
Kinesiology
Psychology
Social Work
Credentials
Administrative Services Credential (Educational Leadership)
Education Specialist Credential (Special Education)
Multiple Subject Credential (Elementary Education)
Single Subject Credential (Secondary Education)
NEW THIS SPRING
Regional Commencement Ceremony
Monday, May 15
The Miracle Theater in Inglewood, CA
Time TBD - likely in the afternoon
As a way to help more families and friends celebrate with their graduate, Cal Poly Humboldt will be holding a Spring 2023 Regional Commencement Ceremony on Monday, May 15 at The Miracle Theater in Inglewood, CA in addition to the on-campus ceremonies. Graduates may choose to attend any of the ceremonies—on-campus and/or the regional ceremony. All majors are welcome to participate.
Order Commencement Regalia
A black cap and gown is required for the Commencement ceremony. Caps, rental gowns, tassels, hoods, and more are now available to order on the Cal Poly Humboldt Herff Jones website.
The deadline to order regalia is 8:59 p.m. PST on April 14. Order by March 17 to receive early bird pricing.
If you have any questions regarding regalia orders, please contact the Cal Poly Humboldt Campus Store at (707) 826-3741.
Order Now
Commencement Flowers
Leis and other Commencement flowers from Haggerty Designs will be available for purchase. They offer local delivery or pick up options. Pre-sales end May 1. Supplies will be available for purchase day of Commencement in Redwood Bowl until supplies last.
Pre-order Now
Pre-register for Photos
GradImages photographers will be on hand to capture official graduation portraits. After each ceremony, students will be sent a link to preview their images, and there is no obligation to purchase photos. Pre-register for Commencement Photos and get 20% off.
Pre-register for Photos Now
Save the Date for Fall 2023 Commencement
Friday, December 15, 2023